SHIPPING FISH: 
Cichlids and Herps ships live fish to locations within the continental United States on a regular basis, and internationally on a limited basis. We can ship to Hawaii and Alaska; however Hawaii customers must provide a copy of their current import license, and Alaska customers will be handled on an individual basis. Puerto Rico shipments are sent by Delta Air cargo to San Juan airport. Canadian shipments and all other international inquiries are handled on an individual basis, and customers must be aware of live fish import regulations specific to their Country and share that information with us at the time of order. 
We understand that most customers are looking for the cheapest way to have fish shipped to them, and that many people do not realize how expensive it is to ship live fish.  Most people also do not realize that shipping carriers (Post Office, UPS, Fed Ex, DHL) accept NO liability for damage or loss of live fish, and rarely do airlines accept liability.  These policies have come about because of frivolous claims; however they are now a reality of the fish shipping business.  In essence, the shipper assumes all liability, but is also expected to offer a "live arrival guarantee"  as part of good business practices.  We do not offer "cheap" shipping because we believe our fish deserve better than that; however, our rates are very reasonable for the type of delivery service provided , and we absolutely believe we have the best customer service available to assist with delivery issues should they arise.  
We have been shipping fish since 1999, with an excellent track record.  We have utilized every method available to ship fish; some with near perfect success, and some with catastrophic failure.  Because we have also been customers over the years, we have received fish from shippers using almost every method of delivery, again, experiencing some amazingly perfect shipments, as well as some hugely disappointing ones.  All of this experience is used in developing our shipping policies.  First and foremost, because we are dealing with living creatures, we have an obligation to provide the fastest, safest, and least stressful manner of transport, while balancing the necessity to offer reasonable shipping rates.  It is important to us as responsible shippers, to know where our shipments are at any given time in the travel process.  Because there are inevitable delays over which we have no control, it is also important to us to be able to contact the carrier when delays occur.  Most delays are minor and the fish end up arriving at their destination just fine; however, occasionally a delay is severe enough that the fish could be in danger if it is not resolved. In that case, being able to alert the proper personnel and navigate the system to get the shipment back on track is critical.  Currently, we exclusively 

use 

Federal Express (Fed Ex) Next Day Air and Delta Airlines air cargo. They have been chosen because of their proven track records as well as meeting our requirements of realtime tracking and customer service.    We feel that our years of shipping experience, knowledge of how to effectively communicate with the shipping carriers should there be a problem, and close tracking of all shipments, helps to ensure the highest possible success rate with delivery.
While most of our fish are priced without shipping included, occasionally we will offer packages that are priced with shipping included.  
Currently, we offer shipping via Fed Ex Priority Express for next day delivery, usually by Noon. Some locations, in rural areas, do not have morning delivery, but all priority shipping is for next day delivery.  We receive a volume discount from Fed Ex and charge $59 per shipment.  Note:  Oversized fish, such as wild frontosa trios, are $65-$75 shipped via Fed Ex.  We DO NOT charge extra for packing materials or boxes.   
Fed Ex has an outstanding delivery record, an excellent tracking system, and usually has good options or facilities for holding packages for customer pickup. The Fed Ex email system will also notify customers of shipping, delays, and delivery; therefore it is extremely important that a working and accessible email be provided by the customer. We can ship to a residence, work place, Fed Ex Customer Center, or Fed Ex Store. Buyer must inform Cichlids and Herps at the time order is placed, if they want package to be held for pickup, or sent to a Fed Ex store. Customers can locate centers/stores near them by accessing FedEx.com. Be aware that for security reasons, most Fed Ex stores now require prior arrangements by a package receiver (the customer) to accept and hold a package. Failure to make arrangements with the store can result in a package being refused and the live arrival guarantee voided. In some instances, Cichlids and Herps may require a package be held for pickup to receive the live arrival guarantee. In extreme weather conditions, such as very cold or hot temperatures at the destination point , it is safer to have a package held at a facility. Temperatures below 50 or above 80 are considered extreme for live fish. Please be aware that although we use insulated boxes and heat or cold packs as necessary, packages riding in a delivery truck are subjected to long periods of cold/heat and can freeze or bake to the extent that heat/cold packs are ineffective. In those cases, we will inform the buyer that our recommendation is to have the package held for pickup. If buyer declines the recommendation and wishes to proceed with the purchase, there will be no live arrival guarantee. Holding for pickup is always a good option in cold or hot weather or if buyer cannot be at home for delivery. Most packages are shipped for morning arrival; but Cichlids and Herps has no control over actual delivery times. Even packages "guaranteed" for a certain delivery time can be disrupted for any number of reasons that are beyond anyone's control. Therefore, if a customer is on a tight schedule on delivery day, it is best to arrange for a package to be held for pickup.  Our standard shipping days are Mondays, Tuesdays, and Wednesdays for Fed Ex deliveries. Orders placed Monday-Friday are shipped the following Monday or Tuesday. Orders placed on Saturday or Sunday are shipped the following week on Monday or Tuesday. This schedule allows us to properly acclimate your fish for shipping. Once your order is received, you will be notified by email of the shipping date.  
HOW WE PACKAGE FISH FOR SHIPPING: 
 We use cardboard boxes with styro inserts; or sometimes one-piece styro containers inside a cardboard box. The styro provides some insulation; however, it is primarily used to strengthen the shipping container and helps prevent damage from crushing or rough handling. The reality of shipping is that live fish are handled just like all packages and are subjected to rough handling such as being tossed on conveyor lines and being dropped as well as being turned upside down. To prevent unnecessary movement of fish bags inside the shipping container, we will pack to fill the box, and any unused space will be filled with a packing material that is lightweight but prevents the bags from shifting. We use plastic bags (not "breather" bags), designed for shipping live fish, and appropriately sized for the fish being shipped, which are then placed inside another bag to help keep the box dry. Water leakage is normal, even when bags are tightly closed with rubber bands, but double bagging usually contains any leakage. Pure oxygen is used to ensure sufficient air supply, even with unexpected delays. Fish calmer and a newspaper wrapping between bags is used with fish that are capable of puncturing bags. Heat packs or cooling packs are used as appropriate, but buyers should understand that use of these commodities does not make it possible to ship in extreme weather conditions. Heat packs will cease to function in bitterly cold weather and cool packs will not help in extremely hot temps; so weather is always a factor to be considered in shipping.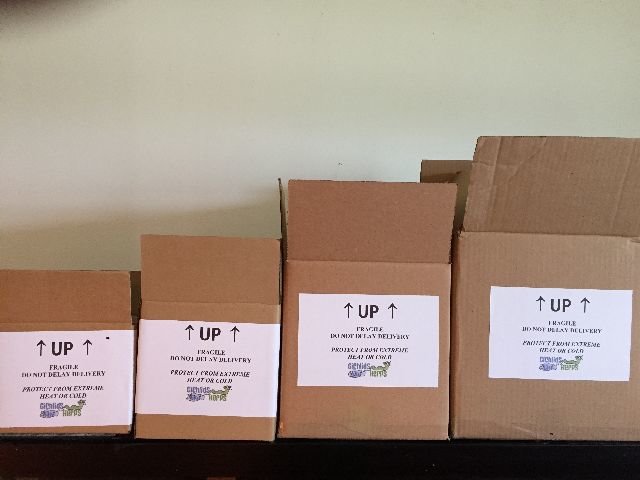 Cichlids and Herps offers a live arrival guarantee ONLY. That means fish are alive in the bag(s) upon delivery. Because we are not knowledgeable of, or responsible for, conditions in a buyer's tank and/or a buyer's experience level, we cannot guarantee that fish will thrive once they leave our facility and are placed in another environment. We always recommend that ANY new fish are placed in a quarantine tank (or tanks) for a couple of weeks prior to introducing them to established tanks. This is good fish management and ensures the fish have as stress-free start in their new homes as possible. Be aware that the stress associated with introducing new fish to established tanks can cause deaths of new fish and existing fish. It is the responsibility of the customer to ensure packages are not left unattended, outside, or otherwise not received on the first delivery attempt, as any of those conditions can endanger the lives of the fish. Accordingly, any of those conditions will void the live arrival guarantee, NO EXCEPTIONS. We follow all shipments and are notified of deliveries in real time by email. That notification also tells us the manner of delivery, such as "met customer", "left package at door." Customers will also receive email notifications from Fed Ex. Claims for DOA fish must be submitted via a digital image picture to Alison@Cichlidsandherps.net within 2 hours of delivery for Fed Ex packages, or within 2 hours of air cargo shipments being made available for pick up at the airport,  and must be a clear photo(s) of the dead fish in the unopened bag. NO EXCEPTIONS. Verbal or text communication, or unclear photos will not be accepted. DOA claims are limited to the cost of fish ONLY; shipping expense is not covered in the event of DOA(s). Where possible, we include extra fish to compensate for any DOAs. For substantiated DOA claims, Cichlids and Herps will provide credit on a future order, or refund the cost of the fish.  In the event of a catastrophic shipment, where all fish are dead, Cichlids and Herps may reship at our expense, or refund the purchase price of the fish. Any dispute of quantities received vs quantities ordered must also be reported within two hours of receiving shipment and prior to fish being released from bag(s). 
Reptiles are shipped next day Fed Ex delivery via Ship Your Reptiles (SYR). A live arrival guarantee is also offered for reptiles in the same manner as for fish. SHIPPING FOOD: All food is priced with USPS Priority mail delivery included, for US orders. International orders, please contact Sales@Cichlidsandherps.net for a shipping quote. 
Cichlids and Herps reserves the right to hold shipments due to extreme weather and/or other conditions that could potentially delay the shipment at any part of its journey, or could imperil the fish/reptiles being shipped.. We try to keep informed of any adverse conditions that may affect shipping. It is very important that buyers provide a working email and or text/phone number so that we can properly communicate with you. Please note that Holidays may also affect our ability to make shipments. 
Sales are made only to buyers ages 18 and up, unless purchase is made by a parent/guardian. By making a purchase from Cichlids and Herps, buyer is aware of this policy. If an underage buyer misrepresents his/her age to Cichlids and Herps, the live arrival guarantee is voided. 
Any questions and/or concerns should be addressed PRIOR to making a purchase.